Online Author Talk – Sgwrs Awdur Ar-Lein
September 30 @ 7:00 pm

-

8:00 pm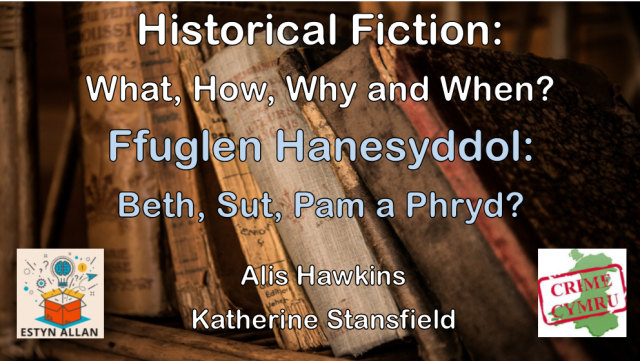 Crime Cymru writers Alis Hawkins and Katherine Stansfield write historical fiction which covers a wide range of time periods, from the medieval to the early twentieth century, including a shared passion for rural communities in the mid nineteenth century.
In this online event, the pair will explore what historical fiction is (and isn't!), the research methods each uses and how they craft their discoveries into gripping stories, the challenges and opportunities of writing fiction set in the past, and the murderous world of historical crime fiction.
The session will last approx. 40 minutes with time afterwards for an audience Q and A.
—
Mae Alis Hawkins a Katherine Stansfield yn ysgrifennu ffuglen hanesyddol sy'n delio ag ystod eang o gyfnodau amser, o'r canoloesol i ddechrau'r ugeinfed ganrif, ac maent yn rhannu angerdd am gymunedau gwledig ganol y bedwaredd ganrif ar bymtheg.
Yn y digwyddiad ar-lein yma, bydd y ddwy yn trafod beth yw ffuglen hanesyddol (a beth nad ydyw!), y dulliau ymchwil maent yn eu defnyddio a sut maent yn troi eu darganfyddiadau yn straeon gafaelgar, heriau a chyfleoedd ysgrifennu ffuglen sydd wedi ei osod yn y gorffennol, a byd llofruddiol ffuglen trosedd hanesyddol.
Bydd y sesiwn yn para rhyw 40 munud gydag amser wedyn ar gyfer sesiwn holi ac ateb.
Cyflwynir y digwyddiad yn Saesneg.