The Summer Reading Challenge is back!
Wild World Heroes summer reading and activities scheme launches 17th July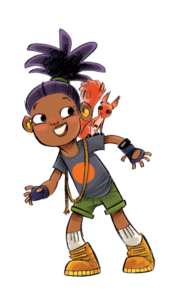 Meet the Wild World Heroes! David, Willow, Marcus, Faiza, Carys and Callum.
The Heroes all live in Wilderville. It's a pretty cool place, but recently the Heroes have noticed a few problems. Our Heroes need your children's help to fix them and to make Wilderville the best place to live for humans and animals.
The Summer Reading Challenge combines FREE access to books with fun, creative activities during the summer holidays, helping children to discover new authors and illustrators and to explore a wide range of different types of books and ways of reading,
How the Challenge works
Children sign up at their local library and receive a Wild World Heroes collector poster
Set a reading goal (at least 6 books!) and borrow and read library books of their own choice during the summer, collecting special stickers to complete their poster and extra incentives along the way
Book on to our family friendly activities!
Children who complete the Summer Reading Challenge are presented with a certificate and a medal at school in the autumn term
Take part online at the official Challenge website, wildworldheroes.org.uk, where there are digital rewards, author videos, games and more for children to enjoy all summer
Registration doesn't close until the summer does, so pop in any time to any library to sign up!
This year children joining the challenge will also get EXCLUSIVE access to the Summer Adventure Club, an exciting programme of outdoor and indoor activities for you to do at home, created by Flossy & Boo. Head to our Summer Adventure Club page for more details!